About
About Lola Greene: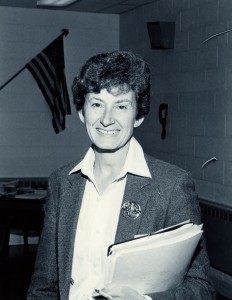 Lola Greene lived a life filled with integrity, compassion, and love for all those around her.  She was a dynamic and dedicated educator who inspired her students to achieve to the best of their abilities.  Lola was intelligent and independent – a highly spiritual person who showed great courage during her life and her three year fight with ovarian cancer.
Lola was born in Bronx, NY.  She received a BA from Wilson College and a Masters Degree in Classics and Education from Columbia University.  She worked as the Latin teacher at Fort Hamilton High School in Brooklyn, NY, and was the last Latin teacher standing when New York finally voted to cut Latin from the Public School system.
After a short break, Lola returned to teaching in 1984 at Mt. Greylock Regional High School, where she developed the Latin program and Junior Classical League into one of the most successful programs in the state.  She instituted toga and catapult contests, won numerous teaching awards, and has her place in the school "Hall of Fame."
After retiring in 2000, Lola remained active as a volunteer at Mt. Greylock, a tutor for Pittsfield Public Schools, a reader at her church, and a member of the Hancock Historical and Conservation Commissions. In 2006, she returned to work at the Berkshire Immigrant Center where she taught English and US History and helped immigrants from all over the world to achieve their dreams of becoming U.S. citizens. Lola's caring demeanor and special ability to make everyone feel welcomed touched all who knew her.